Clarke has been making significant charitable contributions to local retail operations communities since 1998. For several years, one $25,000 check was presented to an organization that supports children in the area of one of our shops. In 2015, Clarke's Board of Directors approved two $25,000 checks to be presented, and in 2018, The Board approved three $25,000 checks to be awarded. Since Clarke's headquarters and the physical presence of a large number of employees are in Cincinnati, Ohio, it was determined that one of the Clarke employee groups in Cincinnati would choose a charity. The locations designated this year were Clarke Power Services retail locations from both Henderson, Ky & Nashville, TN as well as Clarke Fire Products from Cincinnati, OH.
Cliff Hagen Boys & Girls Club
Adrienne Custer, Clarke's Chief Legal Officer, and George Svaranowic, Clarke's VP, Human Resources, traveled to Henderson, KY to present the check and visit the Cliff Hagen Boys and Girls Club. The check presentation was conducted in Clarke's Henderson lobby. Representing the Boys and Girls Club were Board Chair Lisa Baird, Club President Bill Fidler, and Director of Marketing, Wink Chaney. Kenny Liggett, CSM, brought his technicians in for some great photos, and the check presentation. The team made a great choice!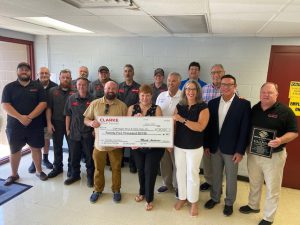 Cliff Hagen Boys and Girls Club has a large presence in Owensboro, KY, but none in Henderson. Until now! Numerous contributions have enabled this club to obtain the old Kentucky National Guard Armory, and to be in the process of converting the Armory into a brand new club. Adrienne, George, and Kenny had the privilege of touring the building and seeing the conversion take place. As you can imagine, the Armory is huge, and there are plenty of rooms for activities, and a gymnasium for large gatherings. Once the renovation is complete, it will be able to serve hundreds of kids in the Henderson area. Clarke's donation is being used to install a building-wide security system so that these kids will have safety and security while attending programs.
The Tennessee Alliance for Kids
The following day, Adrienne and George met up with David Galloway, CSM of Nashville, to present the contribution to Tennessee Alliance for Kids (TAK). David brought two of his Antioch teammates, Ricardo Bryant and Joe Burton, to assist with the award. Ricardo's family had already experienced the great work that TAK has done!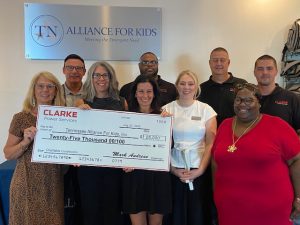 Clarke employees were shown the office and storage space for Alliance for Kids' backpack program. The mission of Tennessee Alliance for Kids (TAK) is to ensure foster children going into foster homes are provided with critical needs during the transition. The program is called FosterLove. The tangible needs met include beds, mattresses, clothing, hygiene supplies, school supplies, food, formula, and diapers. In many cases, a social service agency is required to move a child to a foster home on an emergency basis. A special TAK-Pack is taken with the child to the foster home. Clarke employees viewed the hundreds of Tak-Packs that were pre-assembled at the location, ready at a moment's notice, and filled with essential supplies for the child. It was an impressive process, as explained by Fran Maynard, the organization's Director of Development. Dana Eskridge from the state Department of Children's Services, explained how this small program has expanded to include 10 counties in middle Tennessee.
A Kid Again
This year, as part of Clarke's Corporate Giving initiative, Clarke Fire Protection Products, Inc., was selected to choose a donation recipient.   At the direction of Craig Melvin, a selection committee was formed of volunteers from multiple departments, including sales/marketing, quality, production, and engineering. The selection committee immediately set out to gather non-profit recommendations from Clarke Fire employee's and the feedback we received was tremendous!  Through personal experiences or other means, Clarke Fire employees nominated multiple worthy organizations including those that:  Supported families impacted by pediatric cancer; a local homeless advocacy and service organization seeking assistance in opening Cincinnati's first free grocery store; a charity with a mission to bring hope, happiness, and healing to families raising kids with life threatening conditions; and a non-profit which provides care for Cincinnati's orphan children.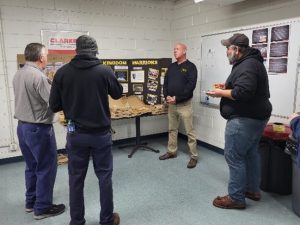 To help narrow the search, the selection committee hosted meetings with each organization and using a standard scoring system, graded each non-profit according to their 'financial transparency', 'accountability to the public', and their 'intended use of the funds'.  Afterwards, the top three organization in the rankings were invited to participate in Clarke's first ever non-profit lunch, which gave Clarke employees in Cincinnati a chance to meet one on one with each non-profit.   We had an amazing reception with over 75 employees in attendance!
After the lunch, Clarke employees voted A Kid Again as the 2022 recipient of Clarke's corporate donation!  When faced with months or years of illness, financial woes, and unbearable stress, the A Kid Again organization provides a momentary respite by hosting local Cincinnati kids and their families at a group experience to a local destination with all tickets, food, lodging, parking, and amenities provided.  A Kid Again is designed to involve the entire family to create lasting positive memories for everyone that is affected by a child's life-threatening condition.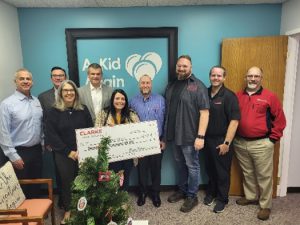 Clarke is proud to work with these great organizations and is looking forward to continuing to contribute to such important causes.